Meet our family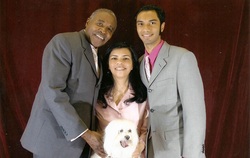 Pastor William Dawson
Pastor Cassia Dawson,
our son Norton
and Charlie, our dog .

At Spirit of Life, our Senior Minister, Pastor William Dawson is recognized as the person Christ has called to lead, direct and govern, the life, ministry and affairs of this ministry. Pastor Cassia Dawson, our first lady, serves in ministry, alongside her husband, by assisting and aiding him in achieving the vision Christ has placed in his spirit. Pastors William and Cassia Dawson are open and accountable to their apostolic leaders (Apostle Dannie Williams of Citadel of Hope Ministries, and Apostles Bill and Linda Johnson of Restoration Summit Ministries). Apostle Dannie Williams has the primary fathering and mentoring responsibility. Apostles Bill and Linda Johnson, along with Apostle Williams maintain an accountable watch over the life and ministry of Spirit of Life.
---
About Spirit of Life Christian Ministries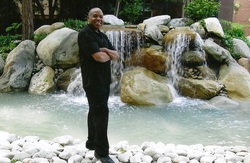 Spirit of Life is a group of believers who are called by God and commissioned by the Holy Spirit to represent, proclaim and manifest the kingdom of God on earth, through the demonstration of New Testament principles, practices and power.
Our Motto
:
We will
love you
to life!
Our Mission Statement
Win
the Lost,
Make
Disciples,
Inspire
the Saved.
Spirit of Life is a church with a growing understanding of how to receive and operate in the 5-fold ministry gifting of the Apostle, Prophet, Pastor, Teacher and Evangelist. Apostles govern. Prophets guide. Evangelists gather. Pastors guard and Teachers grow. Pastor William Dawson and his wife, Pastor Cassia Dawson, serve as head leaders of Spirit of Life.
The Spirit of Life (SOL) family is committed to helping believers grow spiritually, in every way possible. We are here to help you become a fully devoted follower of Christ. We believe God has a plan for believers and we do our best to help them fulfill their destiny in the kingdom. So, what's next? After you have committed your life to Jesus Christ, your next steps are listed below:
Be Water-Baptized. Jesus commanded His followers to be water-baptized. Baptism is a public demonstration of your identification with Christ. If you have not been baptized, make a decision to be baptized at the first available opportunity.
Become a Part of a Local Church. If you do not have a church you call home, we invite you to join us at Spirit of Life. Here you will grow as you engage in worship and learn how to apply the truths of the Bible in practical ways.
Get Involved in Your Church. Become involved at Spirit of Life by completing our Spiritual Growth Classes and working in ministry opportunities.
---